High Standards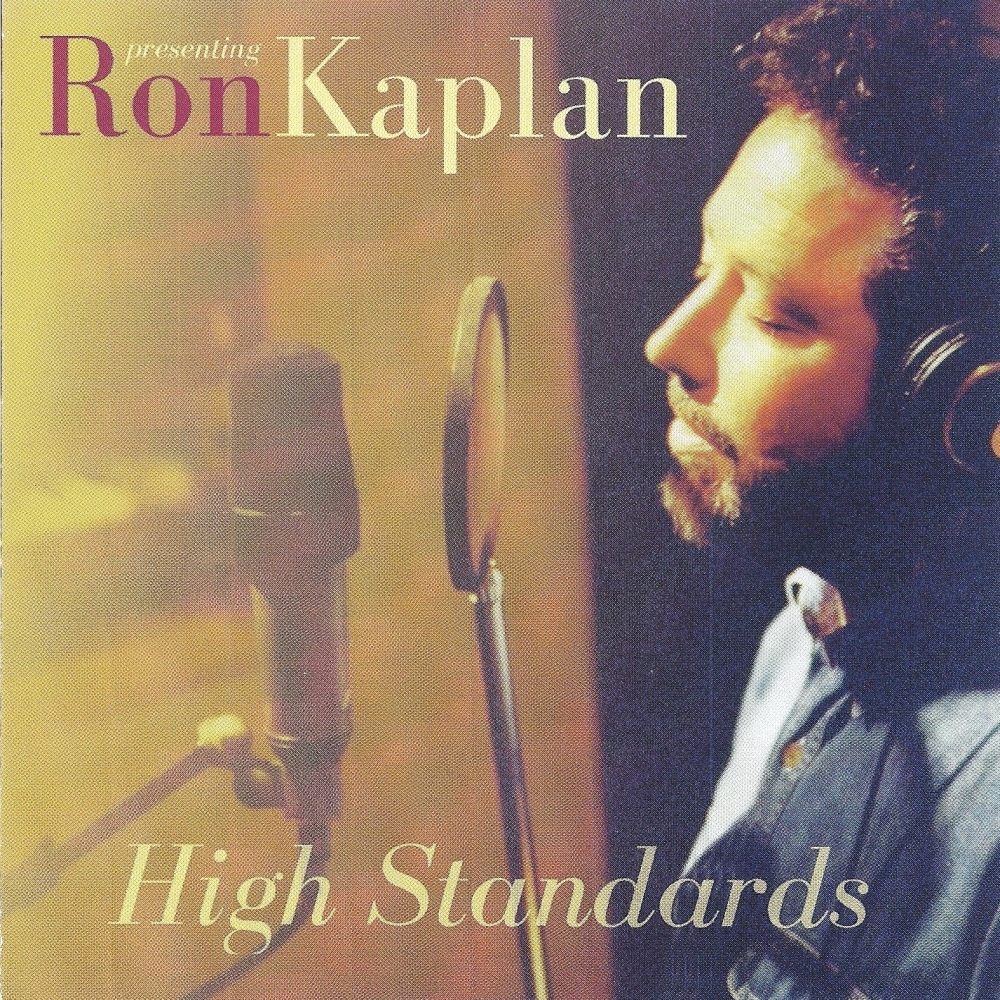 Personnel
| | |
| --- | --- |
| Ron Kaplan | Vocals |
| Smith Dobson | Piano |
| Stan Poplin | Bass |
| Steve Robertson | Drums/Percussion |
| Donny McCaslin, Jr. | Tenor Sax (#1,3,6,7) |
| Paul Contos | Tenor Sax (#9) |
Reviews
In Tune International review by Dan Singer, Sep., 2002

"What you have here is one of the most original singers to come along in quite some time from the jazz singing school of Mark Murphy and Tony Bennett polished off with some unique and handy swinging. This ten song varied program of jazz and popular standards has much to offer. His most fanciful and swift 'take no prisoner's' rendition of Heyward and Gershwin's "Summertime" swings to and fro up and down the scales. On the ballad side you simply must hear the seldom performed but very well suited for Ron, Torme/Wells "Born To Be Blue". Ultimate phrasing and superior mood setting frequently abounds. "Angel Eyes" (Dennis/Brent) conjures up a deep, profound tale of loss. It's a song that should only be sung by an experienced 'been there done that' singer of songs. There is no slick unfeeling way to satisfactorily do this masterpiece. Ron has another CD called "Lounging Around" also on Kapland."
Cadence Magazine review by Frank Rubolino, Mar., 2000

"On his appropriately titled album Kaplan sings 11 standards or Jazz classics with flair and a lot of heart. Backed by a piano trio on seven selections and an expanded group on the others that includes either McCaslin or Contos on tenor, Kaplan wends his way through the popular material by adding a classy touch and a taste of soul. Kaplan's voice is smooth in the Mel Torme sense of the term, and he has a similar pinch of verve to add spice to the songs. Although Kaplan does not deviate substantially from the prescribed melody, his accompanying musicians do. The result is a very pleasant balance between melody and improvisation that gives the recording much of its appeal. For deviation, he sings alternate lyrics to Silvers 'Song for My Father' that appear more appropriate than the more familiar version. Pianist Dobson takes the lead during the vocal breaks and stretches the tune's perimeters while Poplin and Robertson spur him on. When the tenor players enter, the pieces take on added dash.

Kaplan can be linked to the vocalist of the past who merged the Jazz esthetic with the melodic popular element to produce music that appealed to both camps. His light-handed approach and easy singing style are qualities that make him a very likeable commodity. He has chosen to drive along a well-traveled road, yet he produces music that has you singing along with his lyrics or grooving with the instrumental parts. His direction cannot be faulted."
Rapport Magazine review, April, 2002

"Jazz singers come and go; few have staying power. Kaplan is one you can bet will be around for some time. First, he's a true jazz singer who knows his way around a tune, swinging in the irreverent manner that made singers like Mark Murphy, Jackie Paris and Mel Tormé stars. Kaplan's a musician first and foremost, using his voice as an integral part of the jazz mode. His take on Summertime is a knockout, the man is in charge of the set. When he performs the old Dizzy Gillespie composition A Night in Tunisia he fits the music like a glove offering enough personal differences to make you pay attention. As a piece of variety, he takes Antonio Carlos Jobim's Dindi, leading off in a conversational manner. When Frank Sinatra made a hit out of the tune, it was that of a pop singer adapting the Brazilian music to his own talents; here Kaplan does the same but there's an even deeper jazz touch to the music. And much has to be said about this supporting cast, notably McCaslin Jr. on tenor sax and Dobson on piano, who contribute to this memorable interpretation. McCaslin's horn leads off the Mel Tormé composition, Born to Be Blue but Kaplan's voice, sad and emotion-filled, maintains the very bluesy feel of the tune. McCaslin Jr. and Dobson round out the music giving the whole entry a deeper and impressive result. Although Horace Silver's trademark tune, Song For My Father has rarely been performed as a vocal, when you hear Kaplan deliver the lyrics, you realize that, as good as Silver was instrumentally, Kaplan has performed very deserving words to the music. And giving credit where credit is certainly due, Dobson's piano work on the music is expert and Poplin's bass and the soft drums of Robertson make this a very unique and impressive outing for all concerned.

There are many goodies on this disc. Autumn Leaves, Angel Eyes, Lazy Afternoon and My Favorite Things are other fine offerings. And when Kaplan returns to the works of Horace Silver with Senor Blues you know that Kaplan is very special, indeed. The slap-dash piano, the Poplin bass and Robertson's percussion make the whole disc a beauty."
Jazz Improv Magazine review by Eric Nemeyer, April, 1999

"High Standards presenting Ron Kaplan is a smart, package, featuring superb musicians, and the heart and soul of a mature vocalist and leader. To introduce himself to a wider audience, Los Angeles native Kaplan has wisely chosen some of the more well-known compositions from the standard and jazz repertoire. Repertoire including compositions such as Gershwin's classic "Summertirne," and "Song For My Father" make this album highly accessible. Add to that Kaplan's style and approach that is influenced by the enduring quality of great songstylists of the 1950s and 1960's and you have a winner.

"Summertime" is a medium groove swinger that opens with Kaplan's articulate vocals on this classic.

Smith Dobson's flourishes and arpeggios, at the beginning of Jobim's "Dindi," gently support the sensitive rubato opening by Kaplan, The tune evolves into a relaxed bossa nova tempo, a nice contrast to the opening of this tune, and the tracks preceding it. Kaplan's understanding of this song along with his strong sense of time, thoughtful phrasing, and the group performance are compelling.

"When I Fall In Love'' is performed with a very light backbeat, hinting at a pop ballad. Smith Dobson's piano solo complements Kaplan's sensitive interpretation of this warm ballad.

Backed by the rhythm section churning over a 6/8 bluesy backbeat, Kaplan pours out his heart on "Born To Be Blue.'' That track is followed by a noteworthy interpretation of the Matt Dennis ballad ''Angel Eyes.'' The introduction features Dobson's piano and Stan Poplin's bowed bass. In the tradition of the great male vocalists Sinatra and Tony Bennett, Kaplan turns in an authoritative and engaging performance. McCaslin's tenor sax solo over the double time groove is a highlight of this track.

There's a fresh treatment of Horace Silver's "Song For my Father."

One of the highlights of the album is the locked-in grooves, sensitive accompaniment by and interplay among the members of the rhythm section. A stellar example of this is on the track "Autumn Leaves," where Dobson turns in a swinging piano solo featuring some powerful locked hands ideas.

High Standards is just that, from the moment you look at the album jacket and put on the CD until you hear the final notes of "Lazy Afternoon." The variety of ballads, swingers, and latin grooves are sequenced in an order that works well to maintain this listener's attention. It's apparent from the packaging the quality design and professional photography, that Kaplan has put a lot of effort into this superb independently produced and distributed release.

This CD release is evidence of a rnusician who both loves the music, and has invested the necessary listening time to create and distribute a quality package."
Metro Santa Cruz Magazine review by Christopher Weir, Sep., 1998

"THE MUSIC BUSINESS is nothing if not cynical. And why not? Profound talents toil in obscurity while the Spice Girls top the charts. Yanni prospers, Stevie Ray Vaughan dies. And major record deals are about as easy to secure as a seat on the Space Shuttle.

So why is Aptos-based jazz vocalist Ron Kaplan smiling?

"I'm probably very naive," Kaplan says, "which is maybe why I stay very enthusiastic and wholehearted about the music thing. Even though I've heard how tough the business is, I'm not letting that bother me."

But Kaplan is not naive, just scandalously positive. Armed with his debut recording--High Standards--he is embarking on a musical adventure whose declared destination is, predictably, a high-profile recording contract.

"I believe that if you really go after something, you can attain whatever it is you want," Kaplan says.

Committed to the American standards enshrined by the likes of Frank Sinatra, Mel Torme, Tony Bennett and others, Kaplan plans to take "straight-ahead" jazz into a new era. "I'd like to carry the torch of the American songbook," he says, "to sing the great standards and keep them alive. People all over the world love this stuff. But right now there's a dearth of male singers."

To the armchair skeptic, Kaplan's words could seem positively delusional. But naysayers might want to withhold judgment until they've had a chance to listen to High Standards. Throughout the recording, Kaplan's melifluous voice reveals style and poise, both of which bode well for a promising future.

Born in Hollywood, Calif., Kaplan evinced musical inclinations at an early age. His father was a trumpet player, his mother a jazz enthusiast. But, surprisingly, neither encouraged Kaplan's formative interest in music.

"Nobody ever really gave me lessons," he says. "It took me about 10 years to talk my father into buying me a set of drums. There wasn't a lot of support in the home environment." In college, Kaplan took a death and-dying course that would ultimately have a profound influence on his aspirations.

"In one of the [class] exercises," he says, "we were asked two questions: If you were on your death bed, what would be your regrets? And if you were born again, what would you really want to do? It gave me a chance to review my life at a young age. And one of the things on my list was that I wanted to play at least three instruments."

Guitar, then piano, followed the childhood drum set. All the while, he continued to sing, write songs and perform at coffeehouses. Subsequent devotion to his family and career, however, dispatched music to the back burner. In fact, it was all but forgotten. One day though, he asked himself a question that first had been posed during the aforementioned college course: If you could have one job in life, what would it be?

"Without any hesitation the answer came," Kaplan says. "And it was: to sing. That got me really motivated to learn everything I could about jazz."

He adds, "I think it was Sinatra who said that a singer's voice doesn't mature until [he or she] is 40. And that was always in the back of my mind. I was 41 when I thought, 'Hey, what am I waiting for?'"

THREE YEARS AGO, Kaplan started crashing the Kuumbwa Jazz Center, where he frequented ."jazz jam night" and began building his repertoire. He made contacts, and eventually found himself on stage with vibe player and local legend Don McCaslin. "He allowed me to sing, so I just started showing up wherever he was," Kaplan says. "I then became his featured vocalist. It was a wonderful opportunity every weekend to just sing my ass off, stretch out and try things."

Soon, he figured it was time to make a demo. But after assembling his studio musicians, he decided to turn things up a notch.

"I figured, what the hell, I might as well go all the way and make a [retail] CD, because I had all these great players," Kaplan says. Together, those players make for a staggering lineup of local talent: pianist Smith Dobson, bassist Stan Poplin, drummer and producer Steve Robertson and tenor saxophonists Paul Contos and Donny McCaslin

"They're all virtuoso musicians, all the best cats," Kaplan -says. "I felt very"," honored to work with them."

Recorded at Magic Sound in Santa Cruz and Bear Creek in Bonny Doon, High Standards features exceptional production, gorgeous musicianship and inspired interpretations of standards such as "A Night in Tunisia," ''Summertime" and "Born to Be Blue." The arrangements are tight and intimate, leaning more toward bebop than swing. Ultimately, High Standards lives up to its name.

.At times, Kaplan's vocals evoke the warmth and smokiness of Johnny Hartman, though refracted through a higher register. The appeal is immediate and the attitude confident, earning Kaplan airplay on radio jazz shows across the nation.

Meanwhile Kaplan continues to make appearances across Monterey Bay, fine-tuning his art and seeking continued inspiration.

"The most important thing to me is finding my own voice, not sounding like other people," he says. "I don't want to sound like a cliche,. I hope to make a unique statement in my own right." He continues, "There are a lot of world problems that are transcended in the jazz community. This has something to do ... with the freedom of improvising, and the space within the form of the song, where anything can happen, where ideas and emotions can be expressed within the moment."

As for his future, Kaplan remains undaunted by the challenges ahead. "I'm looking for a major label, but I'm also laying the groundwork for doing it on my own."

He pauses, then sums up his philosophy in four simple words: "You just never know."
Music Connection Magazine review by Jon Pepper, July, 1998

"The Players: Ron Kaplan: vocals, Tom Garvin: keyboards, Tom Warrington: bass, Albert "Tootie" Heath: drums.

Material: All of Ron Kaplan's material is made up of jazz and pop standards, but this is a case of a musician taking the time and the effort to work up new and viable arrangements for classic tunes, while making sure they fit his style. Whether it was his soothing rendition of "A Night In Tunisia" or the upbeat "Satin Doll," the songs were tailored for Kaplan. And that was important, as these are songs that most people are very familiar with. Everyone's heard the chorus of "April In Paris" at one time or an other, but Kaplan removes the humdrum and mundane elements that many vocalists leave in this music and claims it with his own mark of musicianship.

Musicianship: Ron Kaplan is a strong vocalist. He can hit high notes, but he generally stayed within the range which suits him best, which made for a rock solid performance. That was actually better than a performance which may contain some very spectacular moments, but be largely mediocre or worse. Kaplan was also easily understandable, which is key to songs like these, where the lyrical content is at the heart of the music. And another important item which Kaplan has mastered is mic placement; he seemed to understand that not every note should be sung at the same distance from the microphone. He had planned out how far he wanted the mic from his mouth and it always ended up there, adding a great deal of vocal effects without any electronics. To boot, he has surrounded himself with three longtime professional musicians, each of whom never waivered. Keyboardist Tom Garvin led the melody line and played solid solos throughout the night. Bassist Tom Warrington moved and grooved in and around the melody and the rhythm, and created great interplay between himself and the other musicians. And Albert "Tootie" Heath is a master. He demonstrated his knowledge that you don't have to overpower a drum kit to make the rhythm swing and he also displayed the many emotions which can be brought out of the drums.

Performance: This was a smooth show with very few gaps. At one point, Kaplan made a mistake during a song intro, but caught it and carried it off with humor and graciousness. The band had a good rapport and each player clearly knew where the others were headed. These guys played with feeling without having to shout at the top of their lungs or play as loud as they could, and that is an artform in itself.

Summary: Ron Kaplan plays jazz and pop in a cool setting, knows what he's doing, and has obviously worked it out over a long period of time...and it pays off. With music like this, Kaplan could go far."
Jazz Times Magazine review by Nancy Ann Lee, May, 1998

"Monterey-area vocalist Ron Kaplan delivers a set of 11 American songbook chestnuts backed by a veteran trio of musician-educators, Smith Dobson: piano, Stan Poplin: bass, Steve Robertson: drums. Kaplan phrases with sophisticated ease at any tempo, scats sparingly, and gives his sidemen (including two guesting tenor saxmen) plenty of space as he glides through favorites such as "Dindi," "My Favorite Things," Angel Eyes," and "Song For My Father." An auspicious debut."
Jazz Now Magazine review by Jack Bowers, April, 1998

"Ron Kaplan is a modest young man. This is an assumption based on the fact that his album High Standards, although self-produced, tells us, absolutely nothing about him. Perhaps he prefers to let his singing voice declaim on his behalf--which, by the way, it does rather persuasively. For comparison's sake, picture Lou Rawls or Kevin Mahogany as a tenor. Kaplan has a lot going for him: scrupulous phrasing, near-perfect diction, a range that is more than adequate for the task at hand. What he does not have, at least on the evidence presented here, is the kind of original approach that commands one's attention and forges a deep-seated emotional bond. The impression that lingers is one of a well-endowed cabaret singer. To his credit, Kaplan has employed top-notch sidemen--tenor saxophonists McCaslin and Contos make an especially favorable impression--but pianist Dobson is placed too far forward in the mix, forcing Kaplan to labor persistently to be heard. Kaplan's choice of material is also first class including as it does such uncommon choices as "Dindi," "Born to Be Blue," Dizzy's "Night in Tunisia," Horace Silver's "Senor Blues" and "Song for My Father," and the lovely yet seldom heard ballad "Lazy Afternoon," from the almost-forgotten Broadway show The Golden Apple. In sum, this is a respectable debut album by a capable young singer who is definitely worth checking out."
Santa Cruz Sentinel review by Adrienne Rogers, Oct., 1997

" Like iced champagne, sequined gowns and tuxedos, the romantic jazz standards on this recording never go out of style.

Kaplan, a local jazz singer with a warm. accessible style, co-produced and co-arranged "High Standards." The disc features 11 straight ahead jazz selections ranging from romantic and melodic songs like "When I Fall in Love," "Dindi" and "Autumn Leaves," to pop-style treatments of "A Night in Tunisia," Summertime" and "My Favorite Things," Latinesque tidbits like "Song for My Father" and the bluesy "Born to Be Blue."

"About three years ago I remembered I had a dream to sing jazz. Now, I'm pursuing the dream," says Kaplan, the son of a jazz trumpet player.

Kaplan's high standards extend to his choice of musicians, as well. The disc features Smith Dobson on piano, Stan Poplin on bass, Steve Robertson on drums, Donny McCaslin Jr. and Paul Contos on sax.

"High Standards" offers a classic taste of romantic jazz standards, enlivened with fresh instrumental arrangements and vivacious musicianship by players with an obvious love for the genre."
Good Times Magazine review, Oct., 1997

"The state of jazz in Santa Cruz County? Doing fine, thank you - at least judging by vocalist Ron Kaplan's debut release, "High Standards". The title works two ways. With an all-star band including bassist Stan Poplin, drummer Steve Robertson, pianist Smith Dobson and sax greats Donny McCaslin, Jr. and Paul Contos, Kaplan obviously demands (and gets) much from his sidemen. And filled with time-honored favorites like "Summertime" and "Autumn Leaves." the album covers the work horses of jazz repertoire. The whole thing is full of tasteful arrangements and topnotch performance. Kaplan has a robust voice in the mold of Mel Torme and enough musical sense to step aside and let the band take a few choruses in the middle of songs.

Though standards, the 11 cuts on "High Standards" certainly aren't run-of-the-mill fare. Arrangers Kaplan, Dobson and Robertson put together some smoking reworkings that reveal the thoroughbred grace of tunes often treated in the hands of hacks like mules."