Jazz Ambassadors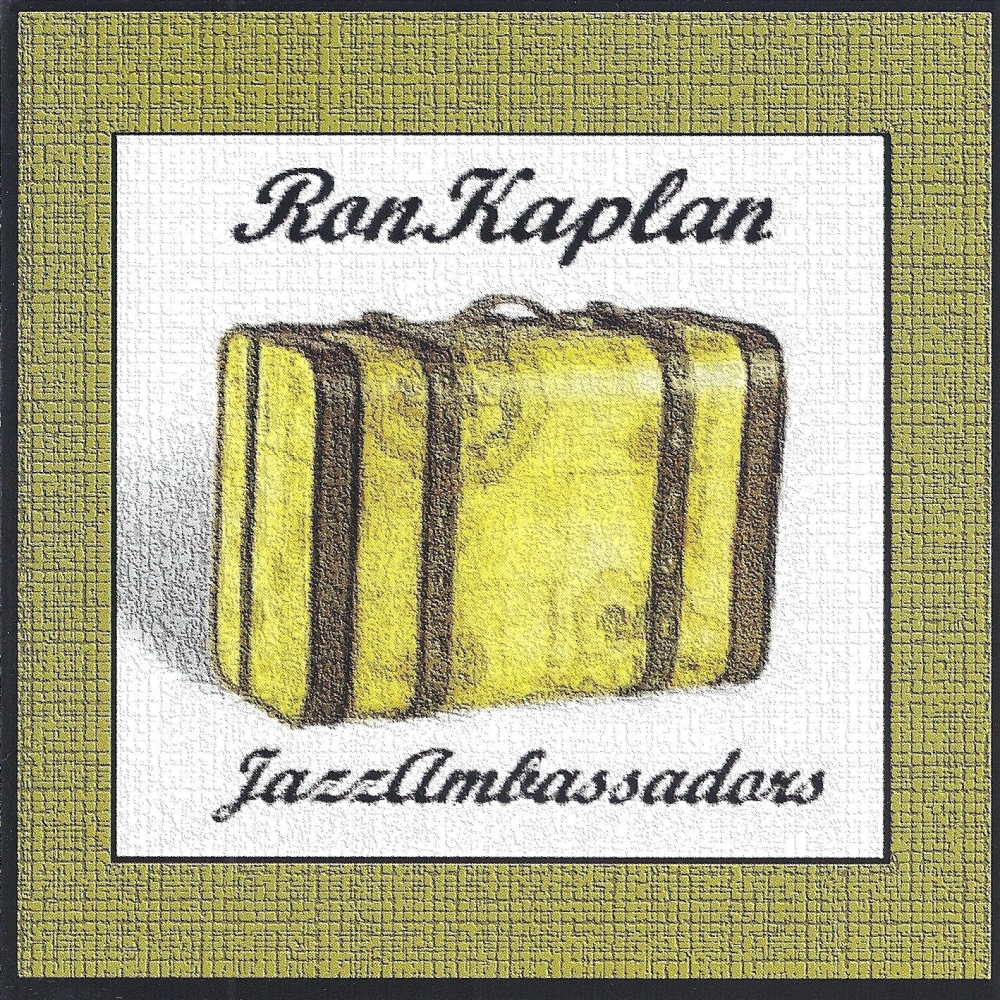 Personnel
| | |
| --- | --- |
| Ron Kaplan | Vocals |
| Eddie Mendenhall | Piano |
| Dan Robbins | Bass |
| Steve Robertson | Drums |
Reviews
CD Baby review by Dr. Mark A. Goral

"Ron Kaplan's recording, Jazz Ambassadors, is one of his best to date. There cannot be enough said about the utter brilliance of Eddie Mendenhall as pianist. He is comparable to the Count and Duke. Ron's voice excels from the fine accompanists on this work. Everyone playing on this project fits nicely with each other and the work shows. Words speak for themselves, people, and listening to this work is a prime example."
Singer Magazine review by Robert Lindquist, Sep. 2004

"If you favor a tall, rich cup full of enjoyment ground from the best of the Great American Songbook, jazz that is 100% pure, hot and strong. With Eddie Mendenhall (piano), Steve Robertson (drums) and Dan Robbins (bass), Ron Kaplan delivers nine solid vocal performances with all the smoke and sincerity of the great jazz performers of the '50's. Kicking things off with the Ellington/Mills classic "It Don't Mean a Thing," Ron demonstrates his ability to swing with a taste of growling grittiness. The fourth cut, "Stolen Moments/The Blues And The Abstract Truth", is an original (with music by Oliver Nelson) in which Kaplan creates a dynamite groove with plenty of room for his own vocal scatting and the player's solos. Other favorites include his oh-so-smooth work on "September Song" and "Green Dolphin Street," a personal favorite that, until recently, had sort of slipped off the mainstream jazz singer's repertoire.

If you are a Thelonious Monk fan, you'll no doubt be hitting the repeat button after "Round Midnight." Track to track, Kaplan's vocal interpretations exude the sincerity, tight phrasing and feel for the swing that can only come from the heart of a genuine jazz singer. "
In Tune International Singer's Singers review by Dan Singer, Nov.. 2004

"Ron continues to favour us with 11 more important and impressive jazz styled standards performed to a magnificent turn. Ellington's famous quartet: "It Don't Mean A Thing" (Mills),"I Ain't Got Nothin' But The Blues" (George/Fotine), "Don't Get Around Much Anymore" (Russell), and "I Let A Song Go Out Of My Heart" (Mills/Nemo/Redmond) become putty in his vocal hands. Ron's blues style is all class "A". There's a superb bossa nova arrangement of "Body And Soul" (Heyman/Eyton/Sour/Green). It is so tasty and clearly chock full of delights. "Green Dolphin Street" (Kaper/Washington) offers the listener some remarkable on key romantic rich vocal artistry. It's casual yet delicate in its interpretation. "Consistency" should be Ron's middle name."
O's Place Jazz Newsletter review by Oscar Groomes, Oct.., 2004

"Ron is a jazz balladeer who may not have crossed your radar screen yet. If he had, you'd surely remember him. He's got a cool voice and style that will warm your spirits. He sings standards in front of a tight rhythm section, songs like "Body and Soul", "Stolen Moments" and "Round Midnight". You have heard the lyrics before, but his renditions are worth hearing again, and again, and again."
Jazz Improv Magazine review, Dec., 2004

"What good is music if it ain't possessing something sweet?"

Ron Kaplan cherishes the bygone domain when "sweet" meant hot; hot meant swing; swing meant fun. With Jazz Ambassadors, it still does as Kaplan shares his love of the genre in a vocal quartet format. The music has all the do-wop that makes swing brim with optimism.

The music carries the integrity of its practitioners. Eddie Mendenhall, Dan Robbins and Steve Robertson provide excellent support for their singer while improving in the turn of swing structure. "It Don't Mean A Thing" starts us off with the penultimate facsimile: verse, chorus, vocal improv, solos for each instrumentalist - all part of the imperative that defines this music.

Anderson and Weill's "September Song" exudes the nostalgia for the metaphorical seasons of life. Ron Kaplan's quartet plays in reverence to the social values that originally inspired this music. Kaplan vocalizes about girls turning him down while Eddie Mendenhall sizzles over the keys in a combustible chord progression. Clearly, yesteryear is the impetus for the listener's immersion.

Ron Kaplan's vocal style blends jazz, blues and a minor degree of old-time rap. He skillfully employs his vocal cords for instrumental improvisation, but he is equally happy to spice his singing with great respect for the traditions that thrived decades ago. In this respect, Jazz Ambassadors can be considered strictly as a time capsule.

If this album proves one truth, it is the universal wish for this group to perpetuate swing jazz tradition. It can be blues; it can be abstract truth. Kaplan and Co. simply want the sounds to live on.

To that end, one questions if the group would have been wise to record this chronicle in a club. The band plays as if its comfort level has been transferred to the cleaner, less spontaneous containment of the recording studio. Kaplan's vocal style so suits live venue and, sometimes, the live performance overwhelms aural imperfections with spontaneity. On Jazz Ambassadors, Kaplan and the group prove their abilities to revel in extended solo interplay - also a cherished feature of live jazz. It might have led to a longer, more immersed recording. Swing fans will cheer this effort, but It might have impacted listeners to hear those cheers on the record.

Well-played swing eases the mind. Its conventions and structures provide a sense of safety that is often shed in other, less rule-governed, areas of jazz. Ron Kaplan's Jazz Ambassadors secures its rightful place on the shelf when you want to relax and remember simpler times. "Let our love be safe and sound.""
Cadence Magazine review by Jim Santella, Nov., 2004

"Ron Kaplan sings Standards with a comforting charm and a love for the Jazz tradition. His clear baritone voice appears at once to capture your attention. Easy-to-understand interpretations, musical accuracy, and very little embellishment mark his album as an honest affair. There are no false pretenses. Kaplan values the tradition that Jazz has given us. His album came about as an audition for the 2004 Jazz Ambassadors program of the U.S. State Department and the John F. Kennedy Center for the Performing Arts. His lyrics for "Stolen Moments" and the scat singing he provides for that track bring new energy to the forum. No frills. Just a genuine interpretation. His mature outlook leaves a strong impression. The light Bossa Nova rhythm that he employs on both "Body and Soul" and "Stella By Starlight" belies many years of experience entertaining faithful audiences part-time in the wee hours of the morning. His soulful interpretation of "Round Midnight" gets to the heart of the matter. He sets your mind at ease without forcing the issue.

Elsewhere, Kaplan and his ensemble swing comfortably. Bassist Dan Robbins provides serveral lyrical solos, and the others contribute much more than mere accompaniment. Together, the quartet entertains with a natural feel ... the session offers his audience a pleasant atmosphere and treasured memories of classic vocal Jazz."
Jazz Quad Magazine review by Leonid Auskern, Nov., 2004

" Younger music listeners who have grown up on a steady diet of rap may find the music on the album Jazz Ambassadors outdated. However, after listening to this compilation, I must warn you that if you keep that opinion, you are locking yourself out of a musical paradise with the shackles of narrow-mindedness. The world of music expands much further than rap and Ron Kaplan gives us the key to entering the magical sphere of classical jazz with his new release.

In the '30s the phrase classical jazz may have sounded as strange as classical music did to Bach or Handel, but today it is considered a legitimate sub-genre. For the children of the '80s, both Ellington and Monk worked in this field in the distant past. Now Ron Kaplan sings to the accompaniment of a piano trio in the Jazz Ambassadors, showcasing the music of this ageless classic.

From the very first song "It Don't Mean a Thing" these ambassadors show the authority of their musical diplomatic mission. The rest of the album continues the tribute to the bread and butter of jazz – "Body and Soul," "Stella by Starlight," "Round Midnight," and "Green Dolphin Street." Ron Kaplan's lyrics to Oliver Nelson's "Stolen Moments" are dedicated to his passion in life – music. "In the realm of a jazz composition lie the blues and the abstract truth. It's so clear when I hear its divineness from the river of consciousness," writes Kaplan. Sadly, the arrangers are not named anywhere on the CD cover or in the liner notes. Still, all the songs are played magnificently, especially "Body and Soul," presented here with a smooth bossa nova flavor.

Of Ron Kaplan's three albums reviewed by Jazz-Quad, I consider Jazz Ambassadors to be the most interesting. The subtle complexity of the soloist's voice – a blend of fragile beauty and virility – is magnificently accompanied by the background trio. This instrumental support showcases the skills of bass player Dan Robbins and pianist Eddie Mendenhall. This album really is a must-hear.

© 2004 Jazz-Quad Translators: Eya Tkachenko and Spencer Robinson Translation Mentor: Laurie Binnington

*The Russian review conveys a slightly different interpretation of the English lyrics above as follows: "The blues and the abstract truth lie at the root of jazz composition. This is exceptionally apparent when I hear these divine sounds, as you pluck them from the stream of consciousness.""
EuroClubdeJazz EuroclubdeJazz.com review by Wes Gillespie, June 2004

" The Jazz Ambassadors have been described as a mix of Seasoned Veterans and Young Lions. What is for sure on this recording is that they are a gathering of dynamic musicians who offer a tonic of timeless jazz vocal classics.

Ron Kaplan has put together a tight piano trio with Eddie Mendenhall on piano, Dan Robbins on bass and Steve Robertson on drums to perform some of the most revered songs from the exotic treasure chest of the "Great American Songbook". These songs need no introduction to the listener and provide a montage of wonderful arrangements, improvisation and dazzling musicianship.

Ron is a connoisseur of this music and has studied the history of its birth, rise and interpretation for four decades. This wealth of experience and immersion in the genre provides him with the tools he needs to deliver the warmth and dexterity he offers on the Jazz Ambassadors.

Like the opening It Don't Mean A Thing, a swinger from the outset with the rhythm section and vocalist employing a certain amount of artistic freedom with a walking bass predominant throughout. On this cut Ron has the warm and mature delivery of a later day Mel Torme.

The Bossa Nova version of Body And Soul is the album's highlight for me, a wonderful listening experience of the Heyman, Green, Sour and Eyton classic.

September Song is an eclectic offering performed in the Tony Bennett style: "I Left MY Heart…". Ron's venerable vocal style leads to a spectacular piano solo from Eddie Mendenhall and provides an atypical expression of the musical integrity of when this song was first penned.

On an album of true class and panache, other highlights include the magical Stella By Starlight, Green Dolphin Street, and the jewel in the crown, 'Round Midnight, the Thelonious Monk classic where Ron evokes compassion in his stylistic vocal paraphrasing and flair.

The closing Don't Get Around Much Anymore is panoply of articulations and rhythms, which reiterates the romantic lyricism by Ron, and the spontaneous appeal of this tight piano trio.

Unfortunately it is difficult to find an album nowadays of vocal jazz classics performed with astute vocal and rhythmic detail but" Jazz Ambassadors" is an eloquent testimony which provides a continuum for great male vocal jazz.

The whole package has a pristine feel and encapsulates these vintage songs with a quartet of superior musicians who have risen to the challenge to provide a trademark jazz set.

This recording is not to be missed and is available from Kapland Records or EuroClubdeJazz Showcase Artists."