Saloon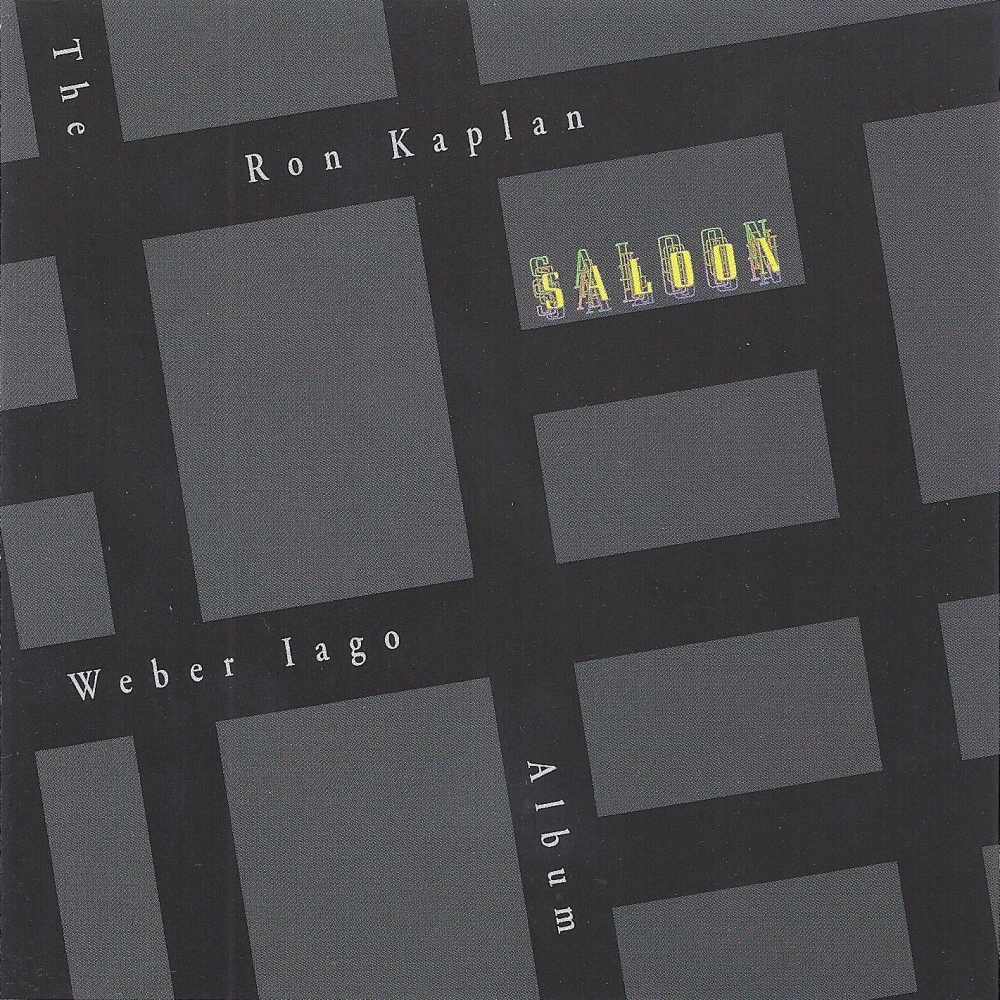 Personnel
| | |
| --- | --- |
| Ron Kaplan | Vocals |
| Weber Iago | Piano |
Reviews
Singer Magazine review by Robert Lindquist

"His latest release commemorates the 30th anniversary of The Tony Bennett and Bill Evans Album. On Saloon, Kaplan collaborates with Brazilian pianist Weber Iago for a most enjoyable CD accentuated by Kaplan's easygoing, personable style. Well executed and highly enjoyable, but not your typical jazz CD. "
CDBaby review by Brian J. Moulton - Jazz Promoter

"It is a delight that Ron's singing is reminiscent of the great vocalists of the past yet he stamps his own unique style on all the lovely songs on this CD. This CD Saloon is a beautiful combination of classy singing,thoughtful piano backing and excellent recording engineering. A must have CD"
JazzReview.com review by Richard Bourcier, Nov. 2005

"Ron Kaplan is a crusader without a cape. His mission is to perpetuate the tradition of American popular song and everything that goes with it. This, his fifth album, is aptly titled Saloon. The California – born jazz singer and his Brazilian born accompanist Weber Iago bring back the flavor the famed Tony Bennett – Bill Evans album for Fantasy in 1975. Saloon creates a similar mood without echoing the Bennett/ Evans songs themselves. Kaplan and Iago create the illusion of an intimate but classy little jazz room. The singer has a relaxed and elegant jazz style that lends itself perfectly to the compositions of Gershwin, Jobim, Ellington and Bacharach. The duo doesn't dig too deeply through the years with the oldest pieces being the Duke's "I'm Just A Lucky So And So" and Gershwin's "I Got Rhythm" and "'S Wonderful" done in medley style. Most songs fall comfortably into the memories of anyone born within the last four decades. This reviewer's favorites are "Willow Weep For Me" and Jobim's "Agua De Beber." The latter features some inventive efforts by both singer and pianist. The album closes with a memorable reading of "Who Can I Turn To" penned by Leslie Bricusse and Anthony Newley. Saloon would be a fine addition to your next quiet dinner with someone special. It's a charmer!"
Neo-Zine review

"This CD does exactly what it set out to do. It replaces the old saloon acts that usually featured one lonely crooner accompanied by an acoustic piano and a tip jar. It does this job so effectively, that I believe any smoky lounge or dark clinking glass romance joint could get away with just playing this instead of hiring an actual live act. Ron Kaplan may have just put hundreds of smooth characters out of business, but he did it with class, style, and talent that is undeniable. I recognize some pretty rock solid standards in here like "It Was A Very Good Year," and "I Got Rhythm." You'll recognize them when you hear them. Enjoy this fading genre while you still can."
Jazz Improv Magazine review by Bill Donaldson, Summer 2006

"Ron Kaplan, a late bloomer who commenced a singing career in his forties, like many other singers, has returned to the music he heard as a youth: that of vocalists singing standards from the Great American Songbook. After experimenting with various other styles, including rock and folk music, Kaplan gravitated back toward the songs with the meaningful lyrics and the unforgettable melodies that remained in his head decades after he first heard them. As a result, Kaplan has made up for lost time. He has recorded in fairly rapid succession four albums on his own label, each one with different configurations of instrumentation. On Kaplan's latest CD, he has chosen to sing solely with piano accompaniment, and appropriately he has named it Saloon. The CD does suggest the quality of a male singer entertaining an audience with spur-of-the-moment song choices and insouciant appeal, as the piano follows him in an environment apparently outside a studio, though inside a studio it was recorded. The name of the CD seems to be consistent with the fact that Kaplan's early favorites were members of the Rat Pack, some of who, like Dean Martin, described themselves as saloon singer.

Indeed, Kaplan includes one of the schmaltzy songs associate with the late-Sinatra era, "It Was A Very Good Year", with the same sense of indulgent sentimentality and the speaking of truths self evident to men who have lived a long life like fine vintage wine. But some of the other songs are those that attained popularity in the late sixties or early seventies, like "Alfie" or " Who Can I Turn To?" Whatever the era of the songs' origins, Kaplan wrings poignancy from them with his rich baritone, breathy on "Willow Weep For Me" and jaunty on "I'm A Lucky So and So". Kaplan obviously is enjoying his better-late-than-never status as a balladeer in control of his destiny as he gets to select the songs he sings and as he gets to release his singing on his own label.

On Saloon, he chose to record solely with a piano accompaniment - by Brazilian native Weber Iago. While one wouldn't expect saloon singing to be the rage in Brazil, Iago's back-up is particularly effective on bossa nova numbers like "Desafinado" whose lyric "out of tune" may be supported to a degree. On "Agua de Beber", strangely enough, Kaplan converts the song into one that a person might hear, yes, in a "saloon", as the Americanization of bossa nova take hold. Iago's controlled, deliberate accompaniment retains some of the song's originality and spirit. Iago's presence on some of the other tracks helps to establish their feeling, such as his sensitive introduction to "Who Can I Turn To?" or his similar work on "Alfie", which offsets the liberties that Kaplan takes with the song in melody and rhythm. With a fondness for romantic ballads and a crooner's interest in reaching out and touching someone, Ron Kaplan has created his most intimate atmosphere yet for his singing of American standards."
In Tune International review by Dan Singer, Aug. 2006

"Ron's ten song latest can't be beat. A most remarkable pianist Weber Iago, assists Ron this time out. They keep alive performing the standard songbook catalogue, which has been the paramount cause in much of Ron's life. The singing here is actually more serious narration. It's most unusual to hear his impressive take on Ellingtonia in the form of "I'm Just A Lucky So And So". Ron actually croons this to a deep dark Herb Jefferies like performance. On the other hand his dramatics on "It Was A Very Good Year" (Drake) contains just the right amount of melodrama to breath new life into this till now all too familiar over done song. "
Jazz Hot review by Jean Szlamowicz, Mar., 2006

"Most readers will find this vocalist a very pleasant discovery. Warm and elegant voice, devoid of any sentimental bias, a fluid phrasing and real rhythmic finesse - this is the mark of a true singer and not just of some simple sweet-sounding crooner. Ron Kaplan is a crooner all right but one with expression and not a bit of bad taste. As could be expected, he's a stalwart defender of the great American songbook and has founded the American Songbook Preservation Society. He makes his point clear by covering Ellington, Gershwin, Jobim or Burt Baccarach with rare freshness. Paradoxically enough, although the genre of his singing comes out of the Tony Bennett and Frank Sinatra tradition, he does not owe them anything in terms of pure singing style. He is a very original stylist whose phrasing reveals no aggressive phrasing but no weakness either. He knows the right moves but avoids making them sound artificial - and his pronunciation is impeccable. There is so much balance that there isn't a single low point in the album. With the expert and sugar-free support of Brazilian pianist Weber Iago, Ron Kaplan brings convincing excellence and does justice with his deep voice to songs whose every inflexion he knows backwards. He can afford some interesting variations, easily twisting the melody of "I Got Rhythm" or "Alfie". He is above all an interpreter, detailing the possibilities of each song, thus showing true humility. The seduction also stems from the duo's clear sobriety. You can take the advice of one who usually cannot stand any crooner. "
Rising Star Radio interview, Mar., 2006

"Q: At what point in your life do you recall really feeling like you, without a doubt, had the potential to be a major success as a musician?

A: I realized it in my childhood. I had certain talents and proclivities. Music being one of them.

Q: What elements do you look for in a song that make it especially satisfying for you to perform as a musician?

A: I love a good melody but the lyric combined with the melody is what is at the heart of a song for me. When I can personally identify with the sentiment of the song, I can make it my own. If it has a great melody, the song becomes a journey unto itself and allows a singer to inhabit a song. The result is what makes for great listening music.

Q: Going as far back into your childhood as you can remember, what was the first song you heard that really grabbed you?

A: I recall being struck by a song from the musical Oklahoma entitled, Oh What A Beautiful Morning. And would sing it. My mother told me I used to sing into a wooden spoon as if it were a microphone to Tennessee Ernie Ford's kinda bluesy song born from the cole mines, Sixteen Tons. I was two years of age.

Q: Of the new technologies and gadgets that have come about and are developing today, which are the most exciting to you personally?

A: I'm a very low tech person and I like it that way. I learn new technology only out of necessity. I do enjoy that I can communicate with the world through cyberspace, and that if you google Ron Kaplan in many countries, I'm there. Sharing my music with people is my greatest joy. I get a big kick out of the fact that around the world, people are downloading my music on itunes and rhapsody.

Q: Who would you consider to be the most influential person in your life to date?

A: I'm certain my mother had the greatest influence on me in this life. She was also my biggest fan. Many have influenced me along the way. I do my best to learn from others and to come to know myself. Musically, there is always something to learn from each experience.

Q: If you were magically allowed to spend an hour with any person who's ever lived, who would that be?

A: If it were to be a mere mortal, I would like to spend the hour with Tony Bennett and convince him to support and help launch www.GreatAmericanSongbook.org to preserve our cultural treasure known as the Great American Songbook by presenting this music to the public at home and abroad as Ambassadors of Song."
Listening Loft smoothjazz.com review by Scott O'Brien, Mar., 2006

"In a time and place that seem a lifetime away, I hosted the morning show on a Smooth Jazz radio station in Monterey, California, and hosted a weekly happy hour at a well known Pacific Grove eating and drinking establishment. Once or twice a month, Ron Kaplan would drive down from Aptos with his briefcase of sheet music, and sing a song or two with legendary Monterey area sax man Roger Eddy. I always looked forward to seeing Ron. Great company and wonderful conversations... But more than anything, I looked forward to his songs. They were warm and rich, and always from the Great American Songbook... The standards that I love to this day.

Ron has assembled an incredible collection of these evergreens on his latest project, SALOON - THE RON KAPLAN WEBER IAGO ALBUM. It's just his smooth baritone and passionate reading of the lyrics together with the brilliant piano accompaniment of Brazilian keyboardist Weber Iago; an intimate style that's reminiscent of the Tony Bennett, Bill Evans album of many years ago. The songs come from the likes of Ellington and Gershwin, Bacharach and Jobim... The performances, warm and rich and enchanting like I remember the songs at the jazz happy hours. Alas, the station in Monterey is no more, nor is the restaurant in Pacific Grove, but I can always listen to Ron Kaplan's songs and remember that special time and that special place. I invite you to relive the sweet nostalgia of special times and places, and treat yourself to SALOON - THE RON KAPLAN WEBER IAGO ALBUM!"
DownBeat review by Fred Bouchard, Mar., 2006

"Throwback Voices. These vocalists rework swing standards and sentimental ballads, scat not a whit and rekindle a safe, cozy post-World War II mentality.

These two pros make good music. Kaplan's warm voice and Iago's spunky piano navigate an amiably plausible set of standards and sambas. A sparkling chart, brisk pace and gritty solo help Iago breathe life into the often maudlin "A Very Good Year." On "Alfie", Kaplan invests the gigolo role with a modicum of experience, and retells "Who Can I Turn To?" as a tale of quiet desperation. "
Jazz Now review by Linda Goshay, Dec., 2005

"West Coast vocalist Ron Kaplan has released his latest CD entitled Saloon, a collection of standards by Gershwin, Bachrach, David, and Ellington presented in a style reminiscent of "a distant time and place with a backdrop of clanking glassware, ringing registers, soft whispers, and occasional laughter." Mr. Kaplan, accompanied here by pianist Weber Iago, ably captures the mood of that long-ago saloon."
Jazz Times review by Christopher Loudon, Dec., 2005

"Any diehard jazz-vocal fan is, I reckon, by definition also enamored of underdogs. The broad base of the jazz pyramid is populated with worthy singers, but the apex--where the Kralls, Cullums, Connicks and others with major-label support reside--is far too narrow. So it's easy to applaud those with the talent and the tenacity to sustain what is virtually guaranteed to be a rocky career ride. Consider, for instance, Ron Kaplan.

The Monterey-based singer, whose gruffly elegant style places him somewhere near the midpoint of Steve Tyrell and Mark Murphy, has spent close to a decade churning out self-produced discs on his own label. On this, his fifth outing, the consistently commendable Kaplan teams with pianist Weber Iago for a short (clocking it at just under 40 minutes) but sturdy set of nine standards highlighted by a nicely wistful "Alfie," a coolly satisfying "I'm Just a Lucky So and So" and a laid-back blending of "'S Wonderful" and "I Got Rhythm." (His "Desafinado," though, could benefit from a slightly lighter, dreamier touch).

While Saloon is no match for Murphy's instinctual intensity, for a made-on-a-wing-and-a-prayer labor of love, it comes admirably close. "
eJazz News review by John Gilbert, Dec., 2005

"Shades of Danny Knight and Earl Coleman are omnipresent in this salute to the American song book. With piano accompaniment by Weber Iago, Kaplan's dusky vocals are a pleasant excursion into the land of standards. This album is a most welcome change from the usual vocal fare one hears these days. "Nice Work If You Can Get It" showcases Ron Kaplan at his best. This tune exemplifies the prowess of Kaplan in an easy listening mode."
MusicWatch review, Nov., 2005

"The last few years has seen an upsurge (albeit a gentle one) in vocalists singing in the jazz school - Norah Jones and Jamie Cullum come to mind immediately, thanks to their chart albums. But there are singers who have been championing the 'Great American songbook' for quite a while, and Ron Kaplan is one of these.

This is my first introduction to Mr Kaplan's music and I guess that if you are a fan of the Sinatra school of jazz/easy listening music then you will really enjoy this album. This is a simple album, just the piano accompaniment of Weber Iago and Ron Kaplan's intimate vocals. Recording quality of this album is excellent, both voice and piano are miked so that it seems like the performers are sitting next to you.

I assume the album title 'Saloon' refers to the type of vocal style. There is a faint whiff of the karaoke about it, but this is far outweighed by the sheer style of the performance. The album is relatively short, just nine tracks, but all classic songs by Duke Ellington (I'm Just A Lucky So and So), George Gershwin ('S Wonderful/I Got Rhythm, Nice Work If You Can Get It), Bacharach and David (Alfie), Anthony Newley (Who Can I Turn To) and others. If you are a fan of the classic 'crooners' I think you ought to check this album out, that era isn't dead yet."
Spirit Watch spirit-works.net review by Rev. Dr. Sandra Gaskin, Nov., 2005

"Everyone has musical choices and preferences, noting that some albums and artists resonate with us more so than others. Ron Kaplan is a talented singer of jazz standards ... great tunes from the '50's & 60's that have become classics around the world. In this album, his tunes represent the 'saloon' singer; the intimate 'share-a-drink & a-song' feeling of a friendly pub. From Duke Ellington to Sinatra to Gershwin, Kaplan sings them with ease and fun-spirited versatility. His love of the old standards shines through as he croons, 'It Was a Very Good Year' and 'Who Can I Turn To?'. Tony Bennett would be proud. Kaplan is a self taught musician (piano, guitar, conga drums) and also writes songs. This album is recommended to the audience who appreciates the legacy of the saloon-singers of the past. May they live on into the future and be preserved for generations to come.

Happy Listening!"
O's Place Jazz Newsletter review by Oscar Groomes, Nov., 2005

"Saloon is a simple approach, just piano and vocals, no gimmicks. It takes two talented individuals to maintain the listener's attention. Ron Kaplan's buttery smooth baritone vocals were made for romance and Weber Iago could entertain solo all day long! In this case, they succeed in complimenting each other over nine standards from the American Songbook. Pop in this CD prior to your dinner for two and let this duo set the mood."
Smoter review by J-Sin, Nov., 2005

"The smoke rises to the top of the ceiling in the small jazz club. The piano man tinkles away playing blues notes with a gutty jazz atmospheric vocal ranging around him. This is the vibe that "Saloon" exudes and it quickly whisks you to Chicago and its terrific blues and jazz clubs where legends were born. His voice is typical of a saloon singer only it's coated with throaty ranges that many can't reach, save for new legend singer Michael Buble and perhaps a handful of others at the head of the class. Tremendous. "
Midwest Record Recap review, Oct., 2005

"Any jazzbo that's been paying attention knows Kaplan from his non-stop ad in the back of all the leading jazz journals. This self-appointed keeper of the classic American song knows from which he sings. Teaming here with piano man Weber Iago for the kind of performance you would see walking through the lobby of the Bellagio, but would actually stay and have a drink and listen to, Kaplan covers a handful of the basic, hard-core classics and really put his stamp on it. A winning adult and urbane set throughout."
All About Jazz Magazine review, Oct., 2005

"Aptly entitled, this session embraces the musical perennials of a long ago era. Remniscent of a distant time and place, these classic selections are sure to awaken the intimacy of a nostalgic moment from the past. alluring, enchanting, and provocative with a backdrop of clanking glassware, ringing registers, soft whispers, and occasional laughter, we are invited to embrace an abiance common to the milieu... Saloon.

Santa Cruz vocalist Ron Kaplan's musical style is reminiscent of the great jazz vocalists of the 1950's. Critics note his sophisticated phrasing, tone and diction. They also recognize his ability to get to the heart of a song with his own mark of musicianship.

A third generation native of Los Angeles, Ron was born in Hollywood, California. He grew up in a musical household. His father was a trumpet player during the west coast jazz scene of the 1950's in L.A. His mother was an avid fan of vocal music during the heyday of the great American Jazz singers. The atmosphere was filled with music.

During his school years he developed his musical, acting, and comedy skills performing with the music and theatre departments and competing in speech tournaments. After high school he continued to study acting, standup comedy, music and broadcasting. In 1976 he received his Associate In Arts degree from L.A. Valley College. He then relocated up the California coast to the Monterey Bay area in central California to complete his Bachelor of Arts degree at the University of California Santa Cruz. During this time he continued to write and perform music.

Along the way come a marriage, a family, and for the past 20 years, a successful Insurance Agency in Aptos, California. During this time Ron continued to study and absorb as much as possible about the history and discography of American jazz.

Over the past several years we find Mr. Kaplan refining his vocal technique and repertoire, and practicing his craft. He is the feature vocalist for his home town jazz ensemble Warmth that has been performing together for the past 30 years in Santa Cruz. In addition to founding Kapland Records in 1997 and completing his debut recording as Artist and Executive Producer, he has been performing regularly in the Monterey Bay area. RK has performed in Los Angeles, Las Vegas, New York, San Francisco, Washington DC, and London. Ronald has also made Television appearances on Musicians Weekly and BETonJazz and is receiving airplay around the country and abroad with his recordings entitled: High Standards, Lounging Around, Dedicated & Jazz Ambassadors.

Ron was a finalist in the 2004 Jazz Ambassadors program through the Department of State and The John F. Kennedy Center for the Performing Arts. His audition recording, Jazz Ambassadors, is offered exclusively on the EuroClubdeJazz Showcase Label ... (as well as Kapland Records).

Ron Kaplan is the Executive Director of American Songbook Preservation Society a 501 (C) (3) not-for-profit Foundation dedicated to continuing the legacy of this great body of work and cultural treasure for future generations to discover and enjoy. Visit www.GreatAmericanSongbook.org.

Ron Kaplan is available for Concerts, Festivals and Special Events as Guest Artist or with Ensemble. Recordings are available online at RonKaplan.com, CDBaby.com, and TowerRecords.com."